DPRK Today
"Hospital Decorated with Fairy Tales"
2021-12-06
"Hospital Decorated with Fairy Tales"
Everybody would have under an illusion in the Okryu Children's Hospital for him or her to be in a fine art museum.
More than 1 700 items of fine art pieces including the familiar pieces from the Korean cartoons and the world masterpiece collections filled to the full all the surfaces of the walls in the interior of the hospital.
More anxious than anybody else for the children to get treatment without feeling pains, respected General Secretary Kim Jong Un paid a deep concern for every art piece to be drawn on the wall and inspected them in detail and personally dispatched a contingent of artists there.
As the result, the hospital was decorated finely in a short span of a time with the pictures which would give smiles to the parents with their children as well as the children themselves.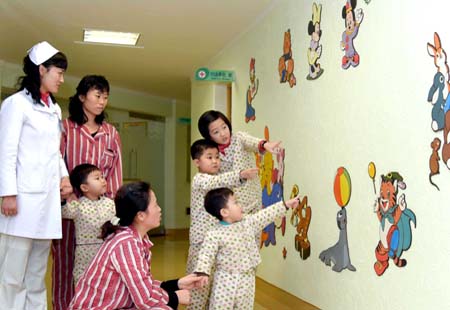 453materials are searched
More Youth Volunteer to Work in Major Socialist Construction Sectors in Korea

2022-01-20

Lecture Given in Albania on Cultural Exchange Experience with the DPRK

2022-01-20

Cage-net Fish Farm Pays Off

2022-01-20

Hot Spring-using Undok Complex Built

2022-01-17

Recycling Brisk at Pyongyang Cosmetics Factory

2022-01-17

World and Great man (1)

2022-01-17

Original Viewpoint of Youth

2022-01-12

One and Only Powerful Country of Youth in the World

2022-01-12

"Tokyo-Pyongyang Rainbow Bridge" of Japan

2022-01-12

Make the Factory Loved by People

2022-01-12

First Irion-clad Ship in World

2022-01-10

Amnokgang General Foodstuff Factory Reconstructed

2022-01-10

Famous actor Choe Chang Su

2022-01-10

It Is Necessary to Go Work Site

2022-01-10

For the Development of Animal Husbandry

2022-01-06

Caring for Even Amusement Facility

2022-01-06

Mt. Paektu, Sacred Mountain of Nation

2022-01-06

Small Yet Big Factory

2022-01-06

Finally in the 173rd Try

2022-01-04