Friendship & Solidarity
Wreaths Laid to Mark 71st Anniversary of CPV's Entry into Korean Front
2021-12-28
Wreaths Laid to Mark 71st Anniversary of CPV's
Entry into Korean Front
Wreaths were laid before the Friendship Tower at the foot of Moran Hill in Pyongyang on October 25 on the occasion of the 71st anniversary of the CPV's entry into the Korean front in memory of the martyrs of the Chinese People's Volunteers who displayed noble internationalist sense of obligation and matchless spirit of self-sacrifice in the sacred war against the imperialist armed invasion under the banner of resisting America and aiding Korea, safeguarding the home and defending the motherland.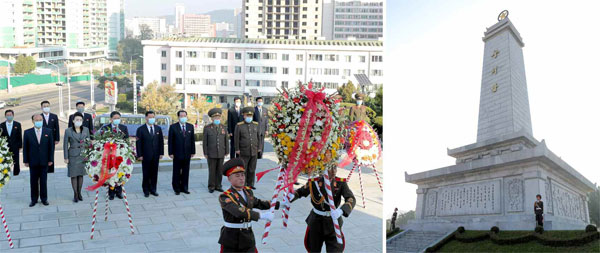 Wreaths were laid in the joint name of the Central Committee of the Workers' Party of Korea, the Presidium of the Supreme People's Assembly of the DPRK and the Cabinet of the DPRK, in the name of the Ministry of National Defence, the Ministry of Foreign Affairs, the Ministry of Public Security, the Ministry of External Economic Relations and the Ministry of Culture, in the joint name of the Korean Committee for Cultural Relations with Foreign Countries and the DPRK-China Friendship Association and in the joint name of the Pyongyang Municipal Committee of the WPK and the Pyongyang Municipal People's Committee.
On the same day, wreaths were laid before the cemeteries and graves of fallen soldiers of the CPV in Hyongjesan District, Pyongyang, Anju City and Hoechang County, South Phyongan Province, Onsong County, North Hamgyong Province and Kaesong.
790 materials are searched
Criteria of a Meeting Being Success or Failure&nbsp

2021-07-12

Lesson from "Car with No Handle"&nbsp

2021-07-12

Young Volunteers Nationwide&nbsp

2021-07-07

Pleasure to Meet People&nbsp

2021-07-07

Korean Ssirum&nbsp

2021-07-05

One Family&nbsp

2021-07-05

Fishes Raised in Flames of War&nbsp

2021-07-05

Ahead of His Own Birthday&nbsp

2021-07-05

Rare Event&nbsp

2021-06-30

Korea's Strength Single-hearted Unity&nbsp

2021-06-30

Mt. Myohyang&nbsp

2021-06-30

Self-reliance Mode of Development Proper to DPRK&nbsp

2021-06-28

Korean Folk Food Rice-and-mugwort Cake&nbsp

2021-06-28

Japanese Crime of Destruction and Plunder of Korean Cultural Assets in the Past (7)&nbsp

2021-06-28

People's Demand MakeCriteria&nbsp

2021-06-28

Chomsongdae Observatory&nbsp

2021-06-23

Promise (5)&nbsp

2021-06-23

To Keep the Peasant from Feeling Sorry&nbsp

2021-06-23

Friendship Tower, Monument Symbolizing DPRK-China Friendship&nbsp

2021-06-22

Japanese Crime of Destruction and Plunder of Korean Cultural Assets in the Past (6)&nbsp

2021-06-22