Friendship & Solidarity
Invariability and invincibility of DPRK-China Friendship Relations Established in Accomplishing Common Cause of Socialism Demonstrated
2023-08-29

Invariability and invincibility of DPRK-China
Friendship Relations Established in Accomplishing
Common Cause of Socialism Demonstrated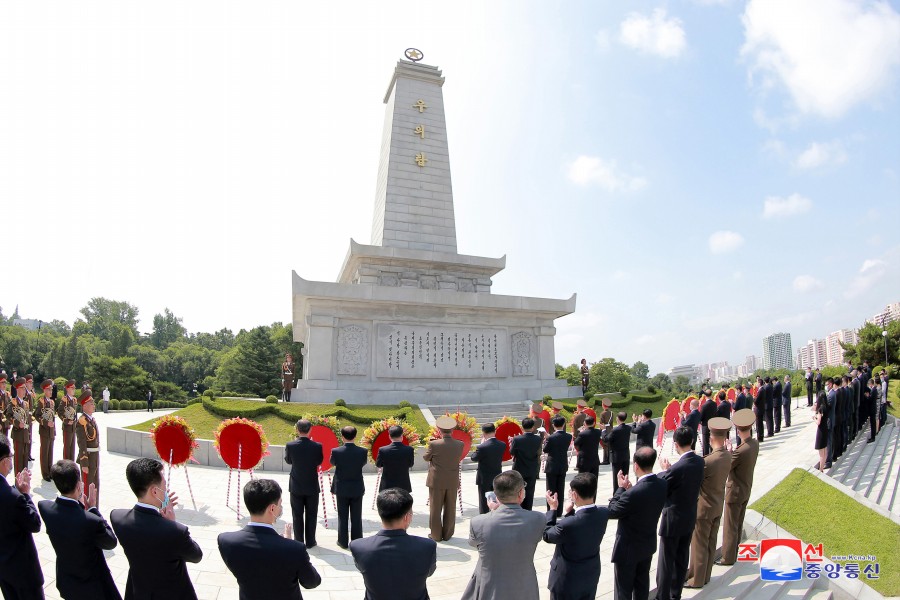 The inner part of the Friendship Tower was newly arranged thanks to the noble intention and will of the Party Central Committee to convey the history and tradition of militant friendship and unity of the DPRK and China for all ages.
The interior of the tower symbol of the DPRK-China friendship was more successfully rearranged in terms of theme and ideology and plastic arts so as to add lustre to the feats and valuable soul of the excellent sons and daughters of China vivid in the history of war victory of the DPRK on the occasion of the 70th anniversary of Victory in the great Fatherland Liberation War.
Lining up at the Friendship Tower were guards of honor of the Korean People's Army.
Attending it were leading officials of the Workers' Party of Korea and the Government of the DPRK, officials concerned and members of relevant units that participated in the renovation project and working people in Pyongyang.
Present there were Wang Yajun, the Chinese ambassador to DPRK and his embassy members, Chinese guests staying here and Chinese residents.
The national anthems of the People's Republic of China and the DPRK were played. A speech was made at the event. Wreaths were laid at the tower amidst the playing of wreath-laying music."
Written on the ribbon of the wreaths were "To Martyrs of the Chinese People's Volunteers!" and "Martyrs of the Chinese People's Volunteers will be immortal".
The participants observed a moment's silence in memory of the martyrs of the CPV who dedicated their youth and life to the sacred war against the armed invasion of the imperialists.
They made a round of the interior of the tower, keeping in mind the invariability and invincibility of the DPRK-China friendship sealed with noble intention and feelings and with ties of kindred in the accomplishment of the common cause of independence against imperialism and of socialism.