DPRK Today
Poet Jo Ki Chon
2021-09-30
Poet Jo Ki Chon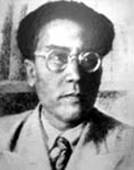 Mr Jo Ki Chon (Novemver 6, 1913-July 31, 1951) was a gifted poet who lives in the memory of the Korean people with his full-length epic "Mt. Paektu".
Born of a poor peasant family in Hoeryong County (then), North Hamgyong Province, he worked for a newspaper as a reporter after the liberation (August 15, 1945).
He wrote several pieces of lyrics and lyrical epics chanting the brilliant results of the democratic reforms including the historic Land Reform and depicting in a distinguished way the mental world and emotional aspects of life of the people who embarked on a new life including lyrics "Song of Land" and "Tuman River".
After he met General Kim Il Sung in May 1946 he created ,with an ardent feeling of admiration for him, the full-length epic "Mt. Paektu" wonderfully which is based on the immortal revolutionary history of General Kim Il Sung during the anti-Japanese revolutionary struggle.
He also created good lyrics, which sang the sentiments of people's worthwhile life fervent with the creation of a new life such as "Whistle" (1947) which was later composed to a song widely loved by the Korean people.
Working as a war writer during the Fatherland Liberation War he created varied poems such as "Korea Fights" and "My Height" depicting the fierce wrath and hostility to the invaders, the undaunted revolutionary spirit and stout-hearted fighting morale and revolutionary optimism of the heroic Korean people.
The archetype of the feature film "Poet Jo Ki Chon" was created based on him and his epic "Mt. Paektu" was also picturized.





790 materials are searched
Story of "My Home" (2)&nbsp

2021-03-26

On the Occasion of 47th Anniversary of Formation of New Zealand-DPRK Society&nbsp

2021-03-26

Chilsong Gate&nbsp

2021-03-22

Researcher Enjoying Recognition of the World Academy of Sciences&nbsp

2021-03-22

General Base of Architectural Creation and Research&nbsp

2021-03-22

Story of "My Home" (3)&nbsp

2021-03-22

Ulmil Pavilion&nbsp

2021-03-17

Spiritual Birthplace of World People&nbsp

2021-03-17

Mobile Cage-net Fish Farming&nbsp

2021-03-17

Charm of Korean Chima and Jogori&nbsp

2021-03-17

Mangyongdae Schoolchildren's Palace&nbsp

2021-03-17

Servant Turned to Master&nbsp

2021-03-17

Ri Ho Jun First Olympics Gold medalist of DPRK&nbsp

2021-03-11

Underground Palace in Pyongyang&nbsp

2021-03-11

Declaration Issued Marking the 8th Congress of the Workers' Party of Korea&nbsp

2021-03-10

Taedong Gate&nbsp

2021-03-10

Spring in the Winter&nbsp

2021-03-10

Pride and Worth of Postwomen&nbsp

2021-03-10

Story of &nbsp

2021-03-10

The 30th December&nbsp

2021-03-03