Long History, Brilliant Culture
Korean National Tree-Pine
2021-12-28
Korean National Tree-Pine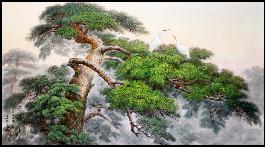 Pine tree that can be seen in all parts of Korea is an ever-green needle-leaf tall tree.
It is a very strong vitality.
The Korean people deem it a symbol of the nation, likening to the spirit of the nation, simple but strong
The indomitable appearance of the tree standing imposingly with evergreen leaves and snow-covered, gives a strong philosophical feeling that the tree stands unchangingly even in the harsh trials and difficulties.
The Korean people create a lot of poems and songs of the pine, demonstrating the strong character of the nation.
790 materials are searched
Grand bomb "No. 203" equivalent to ten A-bombs&nbsp

2022-02-24

Speeches of Figures of Various Circles at Opening Ceremony of Internet International Seminar and Photo Exhibition Held in Indonesia to Mark the 80th Birth Anniversary of Chairman Kim Jong Il (1)&nbsp

2022-02-23

Jindallae Children's Foundation handed over aid materials to the Pyongyang Baby Home and Pyongyang Orphanage&nbsp

2022-02-23

A floral basket was presented to General Secretary Kim Jong Un by Jindallae Saphariny on the occasion of the Day of the Shining Star&nbsp

2022-02-23

International E-Seminar and Online Photo Exhibition Opened to Mark 80th Birth Anniversary of Chairman Kim Jong Il in Indonesia &nbsp

2022-02-23

Mass Consumption Goods Exhibition Held in North Hamgyong Province&nbsp

2022-02-22

Country of Courteous People in the East&nbsp

2022-02-22

The City Site Plan Completely Switched Over &nbsp

2022-02-22

Wearing Cotton-padded Shoes in Summer&nbsp

2022-02-22

Snow scene of Pyongyang&nbsp

2022-02-18

International Solidarity Group with the DPRK&nbsp

2022-02-18

Jongwoldaeborum&nbsp

2022-02-14

Reason He Stopped the Car&nbsp

2022-02-14

Protective Spectacles&nbsp

2022-02-14

Actor-Producer Om Kil Son&nbsp

2022-02-09

Excellent Answer to "I've No Idea"&nbsp

2022-02-09

Lecture Meeting and Gathering for Reading Given at Mongolia-Korea Academic and Cultural Center&nbsp

2022-02-09

On Occasion of 9th Founding Anniversary of Jindallae Children's Foundation&nbsp

2022-02-09

First Military Parade and over 70 Years&nbsp

2022-02-07