Long History, Brilliant Culture
Songgyungwan Ginkgo, Living Monument
2023-02-10
Songgyungwan Ginkgo, Living Monument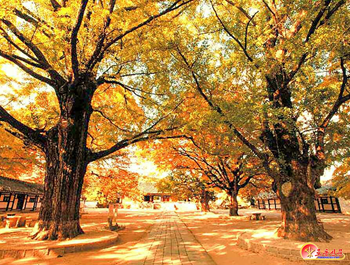 Songgyungwan ginkgo is a living monument in Kaesong of the Democratic People's Republic of Korea.
In May 1992 President Kim Il Sung said that the ginkgo has grown a long time, but it stands against damages by worms and grows in thick verdure, as it is a valuable living monument of the country it should be managed with utmost care. He had a picture taken against the background of this tree.
The tree that still grows well adds to the landscape of Songgyungwan, a building dating back to Koryo, conveying long the undying leadership exploits of the President and showing the validity of the Workers' Party of Korea's policy of preserving living monuments.
The tree is of academic importance.