Long History, Brilliant Culture
Kuchon Pavilion
2023-09-30

Kuchon Pavilion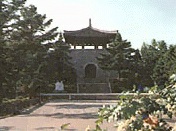 Kuchon Pavilion in Tonghungsan District, Hamhung, South Hamgyong Province, is a general's terrace of Walled City of Hamhung.
The part of the walled city of Hamhung still remains in Mt. Tonghung, Hamhung where the pavilion is situated.
The walled city of Hamhung was built in 1108 to frustrate the invasion of the enemy from the northern area.
The Kuchon Pavilion was reconstructed in the year 1613. It consists of the embankment and pavilion built on it.
The embankment of the Kuchon Pavilion is 6.5 meters high.
The pavilion is well preserved and managed after its restoration of the original status and serves as a cultural recreation centre frequented by the working people along with the Tonghungsan Park.