DPRK Today
International Friendship Exhibition House, World-praised Treasure House
2023-02-14
International Friendship Exhibition House, World-praised Treasure House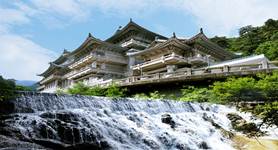 The International Friendship Exhibition House is located in renowned Mt. Myohyang. It displays souvenirs presented by many heads of state and government, followers of the Juche idea, prominent figures of the international community to President Kim Il Sung, Chairman Kim Jong Il and the respected Comrade Kim Jong Un with the feeling of high admiration.
With over 46 000㎡ floor space it was opened on August 26, 1978. It is a six-storied grandiose monument built in the era of the Workers' Party of Korea.
The eaves and walls are decorated harmoniously with colorful Kimilsungia, magnolia and azalea patterns and the wind bells are pendant from corners of the eaves. It shows the Korean style of architecture and goes well with the landscape of Mt. Myohyang.
Displayed in more than a hundred of halls from the general review room to the sixth floor are only a part of the souvenirs from many countries of the world by continents and countries.
Dermot Hudson, chairman of the British Juche Idea Study Group, saying that he was deeply moved after looking round the numerous exhibits, mentioned to this effect: The presents to the great men were not only from the countries friendly to the DPRK, but also from hostile countries. This tells how great they were.