DPRK Today
DPRK's System for Nursing and Upbringing of Children
2021-11-18
DPRK's System for Nursing and Upbringing
of Children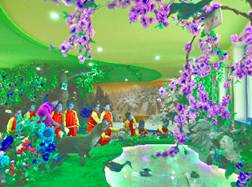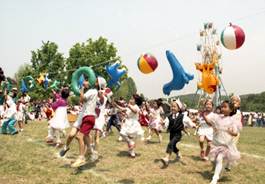 President Kim Il Sung ensured to set up nurseries and kindergartens in the cities, factories, state enterprises and state-run farms at a great deal of state expense in a difficult economic conditions following the liberation (August 15, 1945) and led them to run in a proper way, thus establishing a system of nursing and upbringing the children in a social attention.
During the Fatherland Liberation War (1950-1953) he took a measure of setting up many baby homes and kindergartens for the orphans in such a difficult condition.
After the war, the nursing and upbringing of children in the DPRK entered a normal stage of development.
It was above all ensured that the factories, enterprises and cooperative farms fix the best building for crèches or kindergartens and the state produced diverse and quality toys as well as tasty and highly nutritious foodstuff to supply children with them.
President Kim Il Sung made sure to adopt the Law on the Nursing and Upbringing of Children in order to further consolidate and develop the nursing and upbringing of children.
The nursing and upbringing of children in the DPRK is done entirely at the state and social expense. The state and social benefits for each and every child are applied on a fully equal footing irrespective of the job of parents or the quality and amount of their labour.
790 materials are searched
"Cosmos" Jeweled Hair Pin&nbsp

2022-07-25

Koryo Songgyungwan University&nbsp

2022-07-25

Sinsollo, Traditional Dish of Korean Nation&nbsp

2022-07-20

Composer Sol Myong Sun&nbsp

2022-07-20

Younger Brother to Kyongru-Dong, Elder Brother to Songhwa Street!&nbsp

2022-07-20

E-Celebration Forum Held On The Occasion of the 110th Birth Anniversary of President Kim Il Sung&nbsp

2022-07-20

Oxcart Crossed Ahead of Tanks&nbsp

2022-07-20

Sports Group Born in Midst of War&nbsp

2022-07-20

Grand bomb "No. 203" equivalent to ten A-bombs&nbsp

2022-07-20

Two Aircrafts on the Fly for One Worker's Life&nbsp

2022-07-20

Celebrations Held in Many Countries to Mark 110th Birth Anniversary of President Kim Il Sung&nbsp

2022-07-13

Manwoltae in Kaesong&nbsp

2022-07-13

Socialist Residence Part Full of Joy in Era of Workers' Party&nbsp

2022-07-12

Socialist Residence Part Full of Joy in Era of Workers' Party&nbsp

2022-07-12

Woman Worker with Doctor's Degree&nbsp

2022-07-12

Bean Curd Production That He Was Concerned about &nbsp

2022-07-11

Careful to an Amusement Facility&nbsp

2022-07-11

Admiration of Hadial Bains&nbsp

2022-07-11