Long History, Brilliant Culture
First Irion-clad Ship in World
2022-01-10
First Irion-clad Ship in World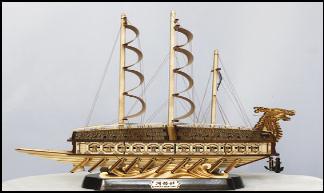 The turtle ship is the world's first iron-clad ship made by the Korean nation.
The construction of the ship was completed from 1591 to February 1592 by distinguished patriotic general Ri Sun Sin (1545-1598). The ship made a great contribution to the victory of the Imjin Patriotic War (1592-1598) by displaying its might in the naval battles against the Japanese invaders.
It was named after its shape of a tortoise with the dragon-like head and tortoise-like body and tail.
It was 35 meter long, 11.8 meter wide and 5.2 meter high.
It antedated the Spanish and French armored vessels by nearly 200 years.
790 materials are searched
Completion of Art Theatre in Jagang Province, Old People's Home in South Phyongan Province, Sinpho Fish Cannery&nbsp

2021-05-17

Beauty Seen from 10 m and One from 1 cm&nbsp

2021-05-17

Pyongyang Metro as Beautiful as an Art Museum&nbsp

2021-05-12

Promise (2)&nbsp

2021-05-12

Japanese Crime of Destruction and Plunder of Korean Cultural Assets in the Past (2)&nbsp

2021-05-12

Time to Be Brave&nbsp

2021-05-12

Inphung Pavilion&nbsp

2021-05-10

Central Zoo&nbsp

2021-05-10

Her Lover (2)&nbsp

2021-05-10

Korean Leaders and Veteran Officer of USSR&nbsp

2021-05-10

Japanese Crime of Destruction and Plunder of Korean Cultural Assets in the Past (1)&nbsp

2021-05-05

International Literary Works Contest in Full Swing&nbsp

2021-05-05

Because Tastes Differ&nbsp

2021-05-05

Moran Hill, Scenic Spot in Pyongyang&nbsp

2021-05-03

Promise (1)&nbsp

2021-05-03

Association for the Restoration of the Fatherland (ARF)&nbsp

2021-05-03

Particular Description of Souvenirs&nbsp

2021-05-03

Ceremonies for Donation of Korean Books Held in Russia&nbsp

2021-04-28

Rungna People's Pleasure Ground&nbsp

2021-04-28

Unusual Holiday&nbsp

2021-04-28