DPRK Today
Production of School Uniform and Bag Cloth Accelerated at Pyongyang Kim Jong Suk Textile Mill
2022-05-24
Production of School Uniform and Bag Cloth
Accelerated at
Pyongyang Kim Jong Suk Textile Mill
The Kim Jong Suk Pyongyang Textile Mill is pushing ahead with the production of school uniform and bag cloth in hearty response to the decision of the Fourth Plenary Meeting of the Eighth Central Committee of the Workers' Party of Korea providing the students across the country with school uniforms and school things at the expense of the State.
Hundreds of thousands of meters of quality cloth were turned out in a short period after the beginning of the production of school uniform cloth.
A bright vista has been opened to finish the production of bag cloth within the fixed date amidst full play of collectivism such as one shift helping another and skilled worker teaching a new worker.
The dyeing combined workshop operates every machine at full capacity and increases its daily output sticking to the technical requirements.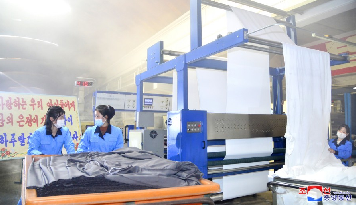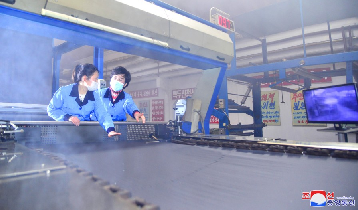 662 materials are searched
Composer Ri Myon Sang&nbsp

2022-06-27

Within More Than 110 days&nbsp

2022-06-27

With Loving Care (6)&nbsp

2022-06-27

Acknowledgement of Govind&nbsp

2022-06-27

Nothing to Desire More If People Are Fond of It&nbsp

2022-06-27

Water Clock and Sundial&nbsp

2022-06-27

Story Associated with Kimilsungia Necklace&nbsp

2022-06-27

"I'll Be Your Adjutant"&nbsp

2022-06-22

Kimchi-Pride of Korea&nbsp

2022-06-22

School Running With 30 Extracurricular Groups&nbsp

2022-06-22

Making Better Use of Mountains&nbsp

2022-06-22

Kaesong Namdae Gate&nbsp

2022-06-20

Ten Best Coaches of Democratic People's Republic of Korea (5)&nbsp

2022-06-20

If There Is Anything Demanded by People&nbsp

2022-06-20

For the Sake of A Foreigner&nbsp

2022-06-20

Visiting Pyongyang Orphanage and Pyongyang Baby Home&nbsp

2022-06-16

At Theatres in the West&nbsp

2022-06-16

Movie Actress Kim Jong Hwa&nbsp

2022-06-16

Fairy and Beauty&nbsp

2022-06-16