Long History, Brilliant Culture
Mausoleum of King Tongmyong
2022-06-14
Mausoleum of King Tongmyong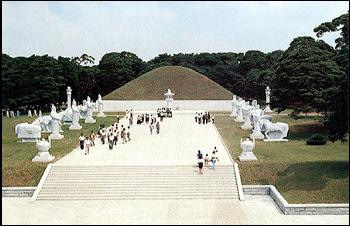 The Mausoleum of King Tongmyong is located in Ryongsan-ri, Ryokpho District, Pyongyang, the capital city of the Democratic People's Republic of Korea.
It is the graveyard of King Tongmyong(Kojumong), founding father of Koguryo (B.C.227-A.D. 668), the first feudal state in the history of Korea.
It was in Zuben, the first capital of Koguryo.
From the ancient time there was the custom of moving the graveyard of the founding father of the country whenever the capital of the country was moved in Korea.
When Koguryo moved its capital to Pyongyang in mid-5th century, the graveyard of King Tongmyong was moved to the present location.
Sculptures of 8 civil and military officers and their riding horses and other stone sculptures stood around and in front of the mausoleum.
Outside the area of the mausoleum are a building where memorial service has been held, a monument on which historical facts ranging from the birth of King Tongmyong and his growth, the building of the country, the unification of its neighboring minor countries after the founding of the country to death of the king are inscribed, "Jongrung Temple," a pond and others.
790 materials are searched
No Matter Whether They Are Near or Far Away&nbsp

2022-10-03

International Group for Solidarity with DPRK Issued Statement&nbsp

2022-10-03

Great Leader (2)&nbsp

2022-09-30

Efforts Directed to Strengthening Foundation for Dairy Products Production.&nbsp

2022-09-30

Jong Yong Man, Well-known Painter Who Made Great Contributions to Development of Juche-based Fine Arts&nbsp

2022-09-29

Organizations and Figures of Many Countries Issued Statements and Talks&nbsp

2022-09-29

Saying That He Felt Like Carrying on His Back&nbsp

2022-09-28

Affection&nbsp

2022-09-28

Leader of Workers' Party of Korea&nbsp

2022-09-27

Even On His Way of Foreign Tour&nbsp

2022-09-27

Construction of Rural Dwelling Houses Stepped Up&nbsp

2022-09-26

"His Image was Identical to Sun"&nbsp

2022-09-26

Cotton Flower&nbsp

2022-09-23

Pledge of Successors&nbsp

2022-09-23

Statements and Joint Talk Issued on the Occasion of June 25-July 27 Months for Anti-U.S. Joint Struggle&nbsp

2022-09-22

Development into Promising Base for Pre-school Art Education&nbsp

2022-09-22

Pohyon Temple of Mt. Myohyang&nbsp

2022-09-20

Picture That Could Not Be Taken&nbsp

2022-09-20

Efforts to Raise Quality of Education Doubled&nbsp

2022-09-19

Construction site he went to in early morning&nbsp

2022-09-19