DPRK Today
At Theatres in the West
2022-06-16
At Theatres in the West
A successful performance was given by the Pyongyang handicapped exchange troupe from February 20 to March 2, 2015 in Britain and France.
The renditions of accordion, kayagum, dancing and singing given by the handicapped as good as professionals made a deep impression to the audience throughout.
Two years later they gave splendid performances again in London and many other British cities from May 26 to 30, 2017.
Whenever they put on stage the Korean songs and dances and foreign pieces and world classics they received hot acclaim.
In particular, Pak Jin Ri a girl sang the songs in praise of the Workers' Party of Korea with a rich volume and clear and beautiful tone, won the highest praise.
After the performance in a theatre of Western country, different in language and customs, many came to her, a blind, to ask how she could sing so beautifully.
She answered: The embrace of the motherly WPK and the socialist fatherland is the source of my joy and hopeful future. I will sing it for life.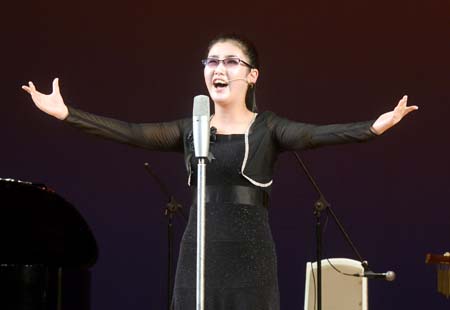 790 materials are searched
Excellent Answer to "I've No Idea"&nbsp

2022-08-10

Carve the Sun on My Tombstone&nbsp

2022-08-09

"How Does Russian Scout Get Along?"&nbsp

2022-08-09

President Kim Il Sung and Liberation of Korea&nbsp

2022-08-09

Janggo-Percussion Instrument Pertaining to Korean Nation&nbsp

2022-08-09

Enlarged Meeting of Organizing Committee of International Festival in Praise of Great Persons of Mt. Paektu Held&nbsp

2022-08-01

Mausoleum of 25th King of Koryo Discovered&nbsp

2022-08-01

Songi Mushroom and Its Medical Properties&nbsp

2022-08-01

33 Years and 25 school children&nbsp

2022-08-01

Political Committee Meeting Turns to "Meeting of Students'Parents"&nbsp

2022-08-01

A Solid Farmer&nbsp

2022-08-01

The City Site Plan Completely Switched Over &nbsp

2022-08-01

Peerless Great Man Who Remains Long in Hearts of Humankind&nbsp

2022-07-28

Wearing Cotton-padded Shoes in Summer&nbsp

2022-07-28

A Negligible Item is Not Forgotten&nbsp

2022-07-28

"Mystery" Made Clear Decades After&nbsp

2022-07-28

More than 20 Branch Schools for Over 390 Students&nbsp

2022-07-28

One Large Family Overflowing with Affection and Warm Heart (1)&nbsp

2022-07-25

Ten Best Coaches of Democratic People's Republic of Korea (6)&nbsp

2022-07-25

"It Was Very Nice to See Such a Dwelling House"&nbsp

2022-07-25