DPRK Today
Songi Mushroom and Its Medical Properties
2022-08-01
Songi Mushroom and Its Medical Properties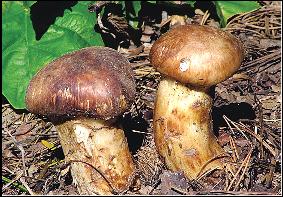 More than hundred species of edible mushrooms grow in the mountains and fields in Korea, out of them 40 species including the songi mushroom are very common.
Songi mushroom grows in pine groves in autumn. It is spread in all areas of Korea including the middle and northern parts. The best known is the one growing in Mt Chilbo in the North Hamgyong Province.
From olden times it was used as one of very dear foodstuffs and valuable medicinal materials for it has a good taste and plenty medical properties capable of preventing and treating various diseases.
It contains protein, fat, saccharinity and cellulose.
The cap of mushroom has 13 kinds of aminoacids, especially plenty of aspartic acid, glutamic acid, alanine, arginine, valine and leucin. It has also plenty of vitamins B₁, B₂, PP especially in dry mushrooms. It also contains such minerals as calcium, magnesium, iron, sodium, potassium and other organic acids. The following are its pharmacological actions:
- It has anti-cancer actions against gastric carcinoma and cancer of large bowel and effective in the treatment and prevention of sarcoma.
- It is efficacious for improving low appetite and treating gastritis hypoacidity, chronic diarrhea and dysuria.
- It is effective to the growth of children and in particular to the prevention and treatment of the rachitis.
- It prevents arteriosclerosis and improves blood circulation.
- It warms the body and improves complexion.
790 materials are searched
No Matter Whether They Are Near or Far Away&nbsp

2022-10-03

International Group for Solidarity with DPRK Issued Statement&nbsp

2022-10-03

Great Leader (2)&nbsp

2022-09-30

Efforts Directed to Strengthening Foundation for Dairy Products Production.&nbsp

2022-09-30

Jong Yong Man, Well-known Painter Who Made Great Contributions to Development of Juche-based Fine Arts&nbsp

2022-09-29

Organizations and Figures of Many Countries Issued Statements and Talks&nbsp

2022-09-29

Saying That He Felt Like Carrying on His Back&nbsp

2022-09-28

Affection&nbsp

2022-09-28

Leader of Workers' Party of Korea&nbsp

2022-09-27

Even On His Way of Foreign Tour&nbsp

2022-09-27

Construction of Rural Dwelling Houses Stepped Up&nbsp

2022-09-26

"His Image was Identical to Sun"&nbsp

2022-09-26

Cotton Flower&nbsp

2022-09-23

Pledge of Successors&nbsp

2022-09-23

Statements and Joint Talk Issued on the Occasion of June 25-July 27 Months for Anti-U.S. Joint Struggle&nbsp

2022-09-22

Development into Promising Base for Pre-school Art Education&nbsp

2022-09-22

Pohyon Temple of Mt. Myohyang&nbsp

2022-09-20

Picture That Could Not Be Taken&nbsp

2022-09-20

Efforts to Raise Quality of Education Doubled&nbsp

2022-09-19

Construction site he went to in early morning&nbsp

2022-09-19