DPRK Today
Arch of Triumph
2021-09-01
Arch of Triumph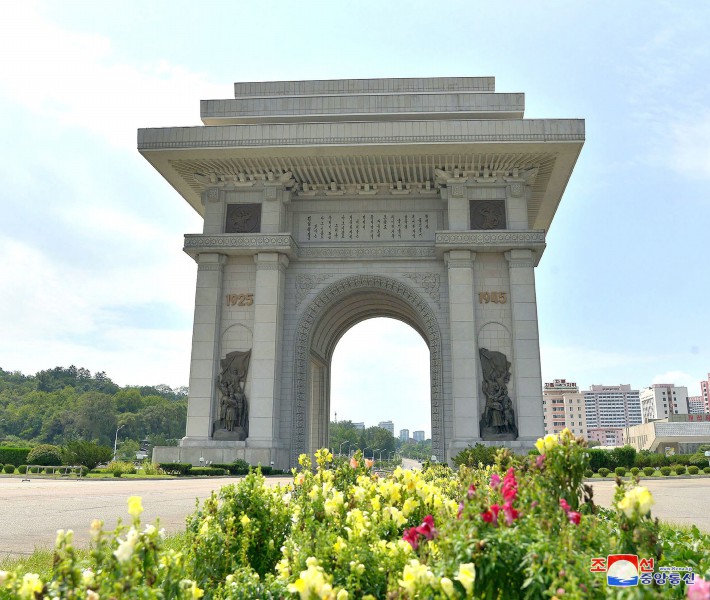 The Arch of Triumph at the foot of the Moran Hill in Pyongyang is a grand monument erected to convey to posterity the great exploits of President Kim Il Sung who led the anti-Japanese revolutionary struggle to victory to liberate the country (August 15, 1945) and made a triumphal return.
This 60 m high grand stone structure is composed of an archway open to four sides in the middle of the ground floor and the contracting flat roofs in 2nd, 3rd and 4th stories.
The immortal revolutionary hymn "Song of General Kim Il Sung" and the numbers "1925" and "1945" are meant to convey that he embarked on the road of revolution in his young age to free the country through over 20 years of bloody war against Japanese imperialists.
Sacred revolutionary mountain Mt. Paektu is line-carved on the surface of the right and left walls on the 2nd story.
Its subsidiary carved images "Long live General Kim Il Sung!" and "Long live country's liberation" and carved images "Looking up to the General" and "To construction of the new country" clearly shows its revolutionary content.
There are 70 reliefs of azalea blossoms round the rim of the archway to symbolize the 70th anniversary of the birth of President Kim Il Sung.
The Arch of Triumph was built at the proposition and guidance of Chairman Kim Jong Il and unveiled on April 14, 1982.
790 materials are searched
No Matter Whether They Are Near or Far Away&nbsp

2022-10-03

International Group for Solidarity with DPRK Issued Statement&nbsp

2022-10-03

Great Leader (2)&nbsp

2022-09-30

Efforts Directed to Strengthening Foundation for Dairy Products Production.&nbsp

2022-09-30

Jong Yong Man, Well-known Painter Who Made Great Contributions to Development of Juche-based Fine Arts&nbsp

2022-09-29

Organizations and Figures of Many Countries Issued Statements and Talks&nbsp

2022-09-29

Saying That He Felt Like Carrying on His Back&nbsp

2022-09-28

Affection&nbsp

2022-09-28

Leader of Workers' Party of Korea&nbsp

2022-09-27

Even On His Way of Foreign Tour&nbsp

2022-09-27

Construction of Rural Dwelling Houses Stepped Up&nbsp

2022-09-26

"His Image was Identical to Sun"&nbsp

2022-09-26

Cotton Flower&nbsp

2022-09-23

Pledge of Successors&nbsp

2022-09-23

Statements and Joint Talk Issued on the Occasion of June 25-July 27 Months for Anti-U.S. Joint Struggle&nbsp

2022-09-22

Development into Promising Base for Pre-school Art Education&nbsp

2022-09-22

Pohyon Temple of Mt. Myohyang&nbsp

2022-09-20

Picture That Could Not Be Taken&nbsp

2022-09-20

Efforts to Raise Quality of Education Doubled&nbsp

2022-09-19

Construction site he went to in early morning&nbsp

2022-09-19