DPRK Today
Twelve for Three
2021-09-27
Twelve for Three
The 512th triplets left the Pyongyang Maternity Hospital on June 11th.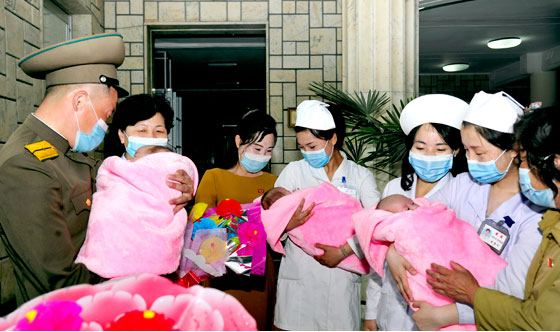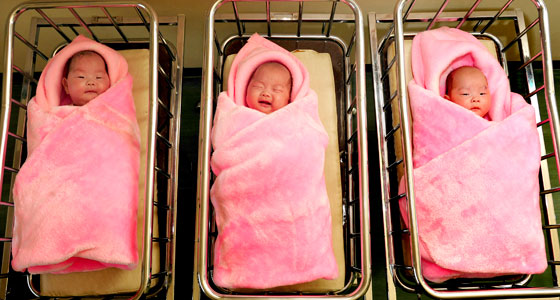 Rim Ju Hyok and Kim Su Hyang, the parents of the triplets each weighing seemingly more than 4 kg, were residing in Sinuiju City, North Phyongan Province. They told about the state benefit the mother and babies had received free of charge during their stay in the hospital and the devotional care of the doctors and nurses in charge.
However, the names of the doctor and nurse in charge of the babies were not mentioned in their story.
A chief of a section of the hospital was asked why the names were not mentioned. The chief answered that four doctors and nurses for a baby so 12 medical staffs had been taking care of the mother and triplets.
Besides, the triplets born in the Pyongyang Maternity Hospital have been given the gold rings and ornamental silver knives, seasonal clothes and various tonics as souvenirs.
In the list of the souvenirs included are even the cloths for a bridal costume of the triplets in anticipation of their future wedding.
The father Rim Ju Hyok with the souvenir said as follows: Warmer is the embrace of the WPK than that of the parents.
So they named their children as Rim Chung Jong, Rim Hyo Jong and Rim Un Jong wishing them prove themselves worthy of the favour of the state.
790 materials are searched
First Meeting of Sportsmen Following Liberation&nbsp

2021-10-11

Jongdok Temple, Historical Relic of Mt. Paektu&nbsp

2021-10-11

Korean Classic Film The Flower Girl (2)&nbsp

2021-10-11

Japanese Crime of Destruction and Plunder of Korean Cultural Assets in the Past (15)&nbsp

2021-10-06

Dairy Products and Children&nbsp

2021-10-06

Losing Business Needs to Be Done&nbsp

2021-10-06

"Father Party" and "Son Party"&nbsp

2021-10-06

Denmark-DPRK Friendship Society&nbsp

2021-10-05

Educational Aid Fund and Stipend&nbsp

2021-10-04

WPK Devotes Itself to People&nbsp

2021-10-04

Chilsong Gate&nbsp

2021-10-04

Japanese Crime of Destruction and Plunder of Korean Cultural Assets in the Past (14)&nbsp

2021-09-30

Poet Jo Ki Chon&nbsp

2021-09-30

Unforgettable Day in Mangyongdae Native Place&nbsp

2021-09-30

Twelve for Three&nbsp

2021-09-27

Pyongyang Bell&nbsp

2021-09-27

Change of Site&nbsp

2021-09-27

Lecture of Sketch Practice&nbsp

2021-09-27

Taking Orders Alone Much to Be Desired&nbsp

2021-09-22

Appeal from Asia-Pacific Regional Preparatory Committee in Celebration for the 110th Birthday of President KIM IL SUNG and the 80th Birthday of His Excellency KIM JONG IL&nbsp

2021-09-22