Long History, Brilliant Culture
Chilsong Gate
2021-10-04
Chilsong Gate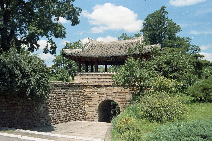 The Chilsong Gate in Moran Hill, Pyongyang is 1500 years-old historical relic.
It was first built in the mid-6th century as a northern gate of the Inner Wall of the Pyongyang Wall in the Koguryo time (B.C.277-A.D.668), a millenarian power. It was renewed in the Koryo time (918-1392) and again in 1711 and 1764.
It was named after the northern gate in the direction of the Great Bear.
One side of the wall is beetled toward the front of the gate and its end was fortified to protect the gate.
The turret building was decorated with moru patterns to add a dignity. The gatehouse is smaller in size but simple in structure and looks stately in keeping with the complex structure of the lower part.
The Chilsong Gate is associated with the history of the Korean people's struggle against the foreign invaders.
Today it is a resting place and tourist resort of the Korean people.
780 materials are searched
Mangyongdae Schoolchildren's Palace&nbsp

2021-03-17

Servant Turned to Master&nbsp

2021-03-17

Ri Ho Jun First Olympics Gold medalist of DPRK&nbsp

2021-03-11

Underground Palace in Pyongyang&nbsp

2021-03-11

Declaration Issued Marking the 8th Congress of the Workers' Party of Korea&nbsp

2021-03-10

Taedong Gate&nbsp

2021-03-10

Spring in the Winter&nbsp

2021-03-10

Pride and Worth of Postwomen&nbsp

2021-03-10

Story of &nbsp

2021-03-10

The 30th December&nbsp

2021-03-03

Land Reform in DPRK&nbsp

2021-03-03

Life of Korean Women in Society&nbsp

2021-03-03

Unhasu-brand Cosmetics&nbsp

2021-03-03

Land Prevalent with Affection&nbsp

2021-03-03

Cheers Swept Ba Dinh Square Then After 61 Years&nbsp

2021-03-03

Significant Tree Planting Day&nbsp

2021-03-03

Pyongyang Bell&nbsp

2021-03-02

DPRK Friendship Order and Medal&nbsp

2021-03-01

Events Held Abroad on the Occasion of the 8th Congress of the Workers' Party of Korea&nbsp

2021-03-01

Foreign Organizations State on the Occasion of the 8th Congress of the Workers' Party of Korea&nbsp

2021-03-01