DPRK Today
For Patient in Critical Case (1)
2021-11-18
For Patient in Critical Case (1)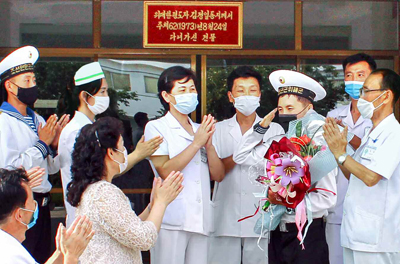 Ma Chung Hyok, a youthful sailor of early 20s was brought in the Kangwon Provincial People's Hospital in December 2018. His skin burned black to the extent hard to tell his figure with 2nd to 3rd-degree burn over 65% of his body.
The chief of the surgical department Dr Ri Han Gyong with a long clinical experience sized up at first sight that perhaps his survival would last 20 hours at least....
By the way, the voice of the military officer who brought the patient was heard.
"Doctors, you have any way to bring him to life, don't you?"
One of the officials of the hospital urged them: "Let us have a consultation."
An emergency consultation was held. It was unprecedentedly extensive due to the presentation of the officials of the province who ran to the hospital at the news on the critical case, officials of related units and commanding officers of the naval unit.
790 materials are searched
Public Health, a Major Feature of Socialism&nbsp

2021-09-22

Japanese Past Crime of Destruction and Plunder of Korean Cultural Assets (13)&nbsp

2021-09-22

People Are Heaven&nbsp

2021-09-20

Ryongwang Pavilion&nbsp

2021-09-20

Order of Supreme Commander for Children&nbsp

2021-09-20

Korea's Literary Giant Ri Ki Yong&nbsp

2021-09-20

Vietnam-DPRK Friendship Club&nbsp

2021-09-15

Simple Mansion&nbsp

2021-09-15

Unusual Competition&nbsp

2021-09-15

Japanese Past Crime of Destruction and Plunder of Korean Cultural Assets (12)&nbsp

2021-09-15

Koryo Songgyungwan University&nbsp

2021-09-13

History Tells the Story on Cosmetics&nbsp

2021-09-13

Admired by Idea and Benevolence (4)&nbsp

2021-09-13

Hong Myong Hui and Historical Novel Rim Kkok Jong&nbsp

2021-09-13

Admired by Idea and Benevolence (3)&nbsp

2021-09-08

Song in Praise of WPK in the West&nbsp

2021-09-08

Enlarged Meeting of Asia-Pacific Regional Committee for Supporting Peaceful Reunification of Korea Held&nbsp

2021-09-08

Japanese Past Crime of Destruction and Plunder of Korean Cultural Assets (11)&nbsp

2021-09-08

Design Personally Drawn&nbsp

2021-09-06

People's Government of the DPRK Born in Anti-Japanese Revolutionary Struggle&nbsp

2021-09-06