Friendship & Solidarity
Asia-Pacific Regional Committee for Peaceful Reunification of Korea Awards Life Membership to Indonesian Figure
2021-12-29
Asia-Pacific Regional Committee for Peaceful Reunification
of Korea Awards Life Membership to Indonesian Figure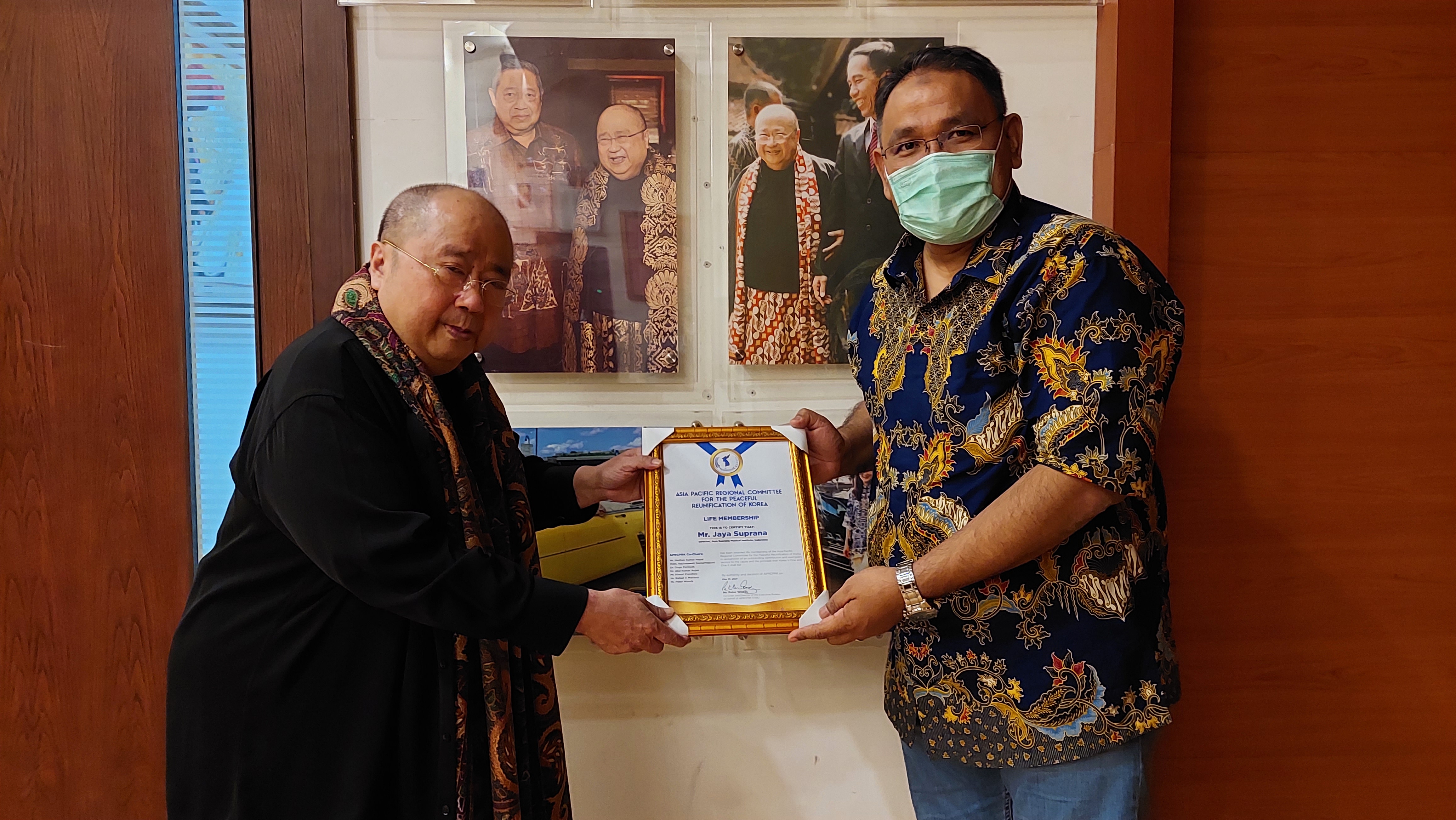 Jaya Suprana to the left and Teguh Santosa, Director of the APRCPRK Public Information Bureau, to the right
On October 5, 2021 the Asia-Pacific Regional Committee for Peaceful Reunification of Korea (APRCPRK) conferred Life Membership award to Jaya Suprana, famous pianist of Indonesia and founder of the Indonesian-World Record Museum.
The APRCPRK was reorganized in 2012 by way of integrating those organizations in Asia and Oceania regions engaged in supporting the reunification of Korea. It is a regional organization which performs its activities having as a mission the solidarity activities in support of the independent and peaceful reunification of Korea as well as the introduction of the reality of Korea. On May 31, the regional committee held an on-line enlarged meeting to review the activities of the past five years, to complete the organizational structure and to discuss and decide some agenda relating to activate the future performance.
The meeting also decided to award life membership position to five influential figures in the region who fully support the peaceful reunification of Korea with due interest.
Upon the authorization of the Executive Department of the regional committee, Teguh Santosa, Director of the APRCPRK Public Information Bureau and Secretary General of the Indonesia-Korea Friendship and Cultural Exchange awarded the certificate to Jaya Suprana of Indonesia.
"I thank you for this award. I have always believed that peace on the Korean Peninsula will be a necessity," said Jaya Suprana.
712 materials are searched
Domestic Production of Perfumery&nbsp

2021-02-22

Pride of a Centenarian&nbsp

2021-02-22

Sangmo Dance&nbsp

2021-02-18

Grand People's Study House&nbsp

2021-02-18

Kangso Mineral Water&nbsp

2021-02-16

His Regret&nbsp

2021-02-16

What Is Good to Our People&nbsp

2021-02-16

Practice Lacking the Popular Character&nbsp

2021-02-16

I Feel Like Having Made a Round of the World Visiting the Exhibition House&nbsp

2021-02-10

Kim Il Sung and Kim Jong Il National Friendship Society of Belarus with Korean People&nbsp

2021-02-10

Kangso Three Tombs and Koguryo Tomb Murals (2)&nbsp

2021-02-10

Jongil Peak and Kim Jong Il's Birthplace in the Paektusan Secret Camp&nbsp

2021-02-10

International Friendship Exhibition House, World-praised Treasure House&nbsp

2021-02-10

Recreation Party Enjoyed with Soldiers&nbsp

2021-02-10

Secret of KPA's Invincible Might&nbsp

2021-02-05

Hana Music Information Center&nbsp

2021-02-05

Model of International Cooperation&nbsp

2021-02-05

Kangso Three Tombs and Koguryo Tomb Murals (1)&nbsp

2021-02-02

Social Measures in DPRK (3)&nbsp

2021-02-02

Who Are the Heroes on the Horse Statue&nbsp

2021-02-02