DPRK Today
Girl Recovered from Cripple
2022-01-24
Story of "Our Family"
Girl Recovered from Cripple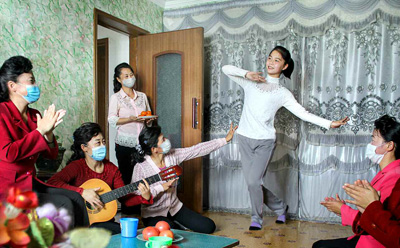 A dancing girl in the photo is Jang Un A in Hwasong-Dong, Ryongsong District, Pyongyang, who was crippled with a disease of unknown etiology one day a few years ago.
She used to dance every day with a dream of becoming a dancer in the future. But her mother Kim Yong Ae's heart was rived when she was unexpectedly crippled.
However, all the neighbors were concerned about the misfortune, regarding it as their own affairs and it was beyond her imagination
A doctress of a hospital in charge of the treatment of Jang Un A said that every day different people visited the hospital carrying Un A on the back.
She went on to say:
"When the people said they were her elder aunt, her maternal aunt and elder sister, I asked them how many relations does she had. But they were all her neighbors living in the same neighborhood unit."
The beautiful people who regard other's misfortune as their own helped the daughter of an ordinary worker's family to stand on her own legs.
The loving care and feelings overflowing in the whole society can be felt in her dancing with her face brightened up with pleasure.
790 materials are searched
Pyongyang International Cultural Exchange Society&nbsp

2021-04-08

Sincerity for a Critical Case&nbsp

2021-04-08

Story on Mirae Scientists Street &nbsp

2021-04-08

Invincible Naval Forces (1)&nbsp

2021-04-07

Remarkable Event of Great Significance in Militant Course of WPK&nbsp

2021-04-05

Korean Folk Instrument-Kayagum&nbsp

2021-04-05

First Tax-free Country&nbsp

2021-04-05

Eternal Chairman of DPRK National Defense Commission&nbsp

2021-04-05

Seminars on Exploits Held Abroad to Mark the Day of the Shining Star&nbsp

2021-03-31

Japan-DPRK Friendship Kyotonet Promoting Cultural, Academic and Civilian Exchange&nbsp

2021-03-31

Story of "My Home" (4)&nbsp

2021-03-31

"Source of Trouble"&nbsp

2021-03-31

Koryo Porcelain&nbsp

2021-03-30

A Little Girl and 300 Persons&nbsp

2021-03-30

What You Get to Know in DPRK (1)&nbsp

2021-03-30

Turkey-DPRK Friendship Society&nbsp

2021-03-26

"Give It To the Girl When You Get Married"&nbsp

2021-03-26

Grand Art Performance Celebrating WPK 8th Congress Successful&nbsp

2021-03-26

Lifelong Travel along Farm Roads&nbsp

2021-03-26