Friendship & Solidarity
DPRK Music Exhibition Held in Russia
2022-01-27
DPRK Music Exhibition Held in Russia
An exhibition on music of and some cultural exchange with the Democratic People's Republic of Korea was held in Russia under the sponsorship of Morten Travik, Norwegian cultural figure and managing director of the Travik Art Company, from July 12 through 26, 2021.
It was held at the Catherine House, a dignified cultural institution in Saint Petersburg.
Making a round of the exhibition hall, Vice Mayor Boris Petervki, said that he was much satisfied with the exhibition.
He made an official address supporting the exhibition at the opening ceremony.
The exhibition provided an occasion of confirming again that the international attention is getting deep as to the cultural exchange with the DPRK.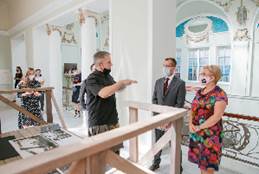 784 materials are searched
Romanian and Swedish Figures Issue Statements and Articles on the occasion of June 25-July 27 Months for Anti-U.S. Joint Struggle&nbsp

2022-09-14

Poet Jon Tong U&nbsp

2022-09-14

Seven-storied Pagoda at Hongbok Temple&nbsp

2022-09-13

His Day's Work&nbsp

2022-09-13

70 Years of State Circus Troupe&nbsp

2022-09-12

Something He Asked Girl Nurses to Do&nbsp

2022-09-12

Events Took Place in Many Countries to the Memory of President Kim Il Sung&nbsp

2022-09-08

New Remains of the Bronze Age Unearthed&nbsp

2022-09-08

Universal 12-year Compulsory Education System&nbsp

2022-09-08

Story Associated with Name of Country&nbsp

2022-09-07

Story Associated with the National Emblem of DPRK&nbsp

2022-09-07

Laws Embodied the Idea of Popular Education (2)&nbsp

2022-09-06

Design Personally Drawn&nbsp

2022-09-06

The People's Power of DPRK Born in the Period of Anti-Japanese Revolutionary Struggle&nbsp

2022-09-05

Laws Embodied the Idea of Popular Education (1)&nbsp

2022-09-05

Ever-appealing Attraction of Chima and Jogori, National Dress of Korea&nbsp

2022-09-02

Evidence of History&nbsp

2022-09-02

Celebration Meeting, Seminar Held in Russia&nbsp

2022-09-02

Girl Plasterer Grown Up to Be a Heroine&nbsp

2022-09-02